Welcome to the Polar Novel's new home! You are visitor # XcounterX.
July 2, 2002: The URL for this website has changed. Effective immediately, "The Polar Novel" (and access to the rest of Debbie's website) will be at www.debbiesfics.com/whiteotter/pnindex.html. Update your bookmarks. A redirect will be in place shortly, but will eventually be phased out so that the new URL is the only means to access this site. The new URL is active, so see you there!
The Polar Novel was voted "Best Unfinished Fic"
and "Best Fanfiction Ever" in the Roswell Undercover
Ultimate Fanfiction Awards

Author: Whiteotter (whiteotter_@hotmail.com)
Category: Michael/Liz
Author's Note:
"The Polar Novel is the official recording of Michael and Liz's
secret lives together in Roswell, New Mexico. The recordings
begin when Liz Parker left Max Evans in the desert and then
backtrack to when Michael returned Liz's journal to document how
their relationship first began. On occasion, the Polar Novel
incorporates actual events from the UPN
documentary 'Roswell', broadcast Tuesday nights on UPN. No
infringement is intended.
Polarists (supporters of Michael and Liz) sometimes appear in
the Polar Novel. If you would like to be included, email your
basic characteristics and/or preferences to Whiteotter_@hotmail.com.
Enjoy these historic recordings. Check back for updates as we
uncover more diary entries and letters from these two passionate
lovers, and continue the exploration of Polar Love."
The PN has its own special hangout, as revealed
in Chapter Twelve. We welcome you to browse through
our selection of Babe Magnet merchandise.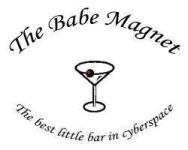 Volume One
Chapter One
Destiny
Chapter Two
Trail of Tears
Chapter Three
The Window
Chapter Four
Spilled Paint
Chapter Five
Pro Quid Quo
Chapter Six
Taking Steps
Chapter Seven
The Eraser Room
Chapter Eight
Multiple Choice
Chapter Nine
Houses Within Houses
Chapter Ten
Flowers and Musk
Chapter Eleven
Communicating
Chapter Twelve
The Babe Magnet
Chapter Thirteen
Pulse
Chapter Fourteen
Independence
Chapter Fifteen
Independence (Part 2)
Chapter Sixteen
Catalyst
Chapter Seventeen
Going the Distance
Chapter Eighteen
Faking It
Chapter Nineteen
Visions
Chapter Twenty
Breaking Through
Chapter Twenty-One
Confessions
Chapter Twenty-Two
Perfect
Chapter Twenty-Three
The Guardians
Chapter Twenty-Four
And Then There Were Three
Chapter Twenty-Five
Trust
Chapter Twenty-Six
Aftermath
Chapter Twenty-Seven
Strange Days
Chapter Twenty-Eight
Dark Nights
Chapter Twenty-Nine
Secrets and Lies
Chapter Thirty
Friends and Lovers
Chapter Thirty-One
Careful What You Wish For
Chapter Thirty-Two
Waking Up
Chapter Thirty-Three
The Wake of the Dream
Chapter Thirty-Four
The Canon
Chapter Thirty-Five
Prophecy
Chapter Thirty-Six
Revelations
Chapter Thirty-Seven
Contact
Chapter Thirty-Eight
Smoke and Mirrors
Chapter Thirty-Nine
Counterattack
Chapter Forty
The Quickening
Chapter Forty-One
Magic

Trilogy, Part I: Life
Trilogy, Part II: Death
Trilogy, Part III: Hope

Volume Two
Chapter One
Faith
Chapter Two
Habit
Chapter Three
Control
Chapter Four
Breaking Point
Chapter Five
Return to Me
Chapter Six
Negative Space
Chapter Seven
Blood and Water
Chapter Eight
The Sign
Chapter Nine
Mirror Image
Chapter Ten
New Beginnings
Chapter Eleven
Dust to Dust
Chapter Twelve
Dancers In the Dark
Chapter Thirteen
Lost
Chapter Fourteen
Erosion